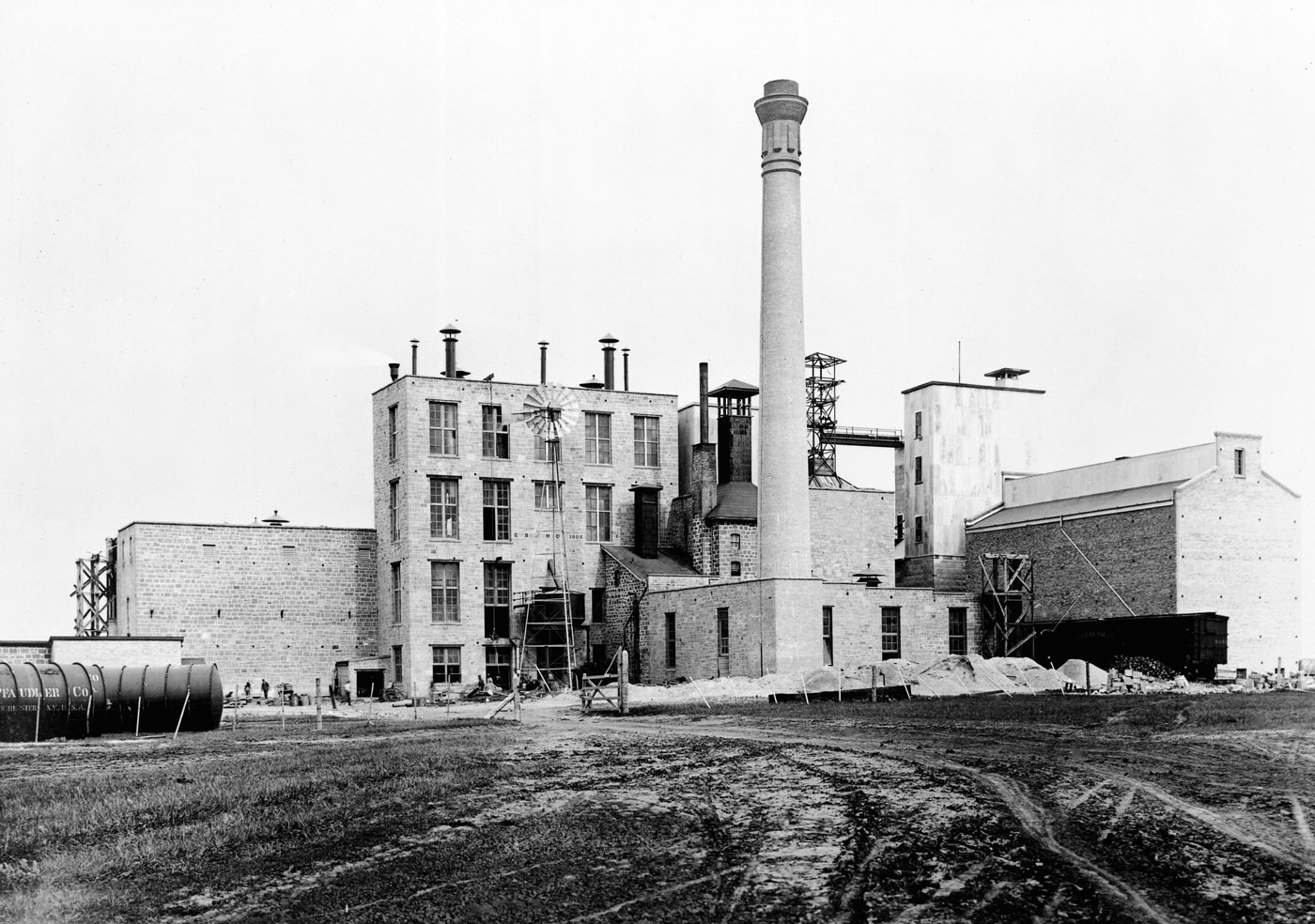 The Calgary Brewing and Malting Company, established in 1892 by A.E. Cross. Photo supplied by University of Calgary, Digital Collections ID # na-2307-38.
In 1884, a young veterinarian named Alfred Ernest Cross moved from Montreal to Alberta and found work on a ranch. One year later, Cross founded his own ranch, naming it A7 Ranche after himself and his six siblings. Located near Nanton, it remains in the Cross family today.
Cross also had a keen eye for opportunity and community-building. He was a founding member of the Ranchmen's Club and one of the "Big Four" founders of the Calgary Stampede.
Between an accident that left him unfit for ranching, and rumours that Prohibition was coming to an end, Cross saw an opportunity to shift into brewing. He took a brewery apprentice course in Montreal, then returned to Calgary to set his plans in motion. In 1892, Cross incorporated Calgary Brewing and Malting Company in what was then known as Brewery Flats (now Inglewood).
A year later, the brewery released its flagship Calgary Export Lager (affectionately known as Calgary Beer) and registered its iconic buffalo head and horseshoe logo. The beer became an instant local favourite, and the brewery grew and flourished as Cross became a certified brewmaster and expanded exports across Canada and into the U.S. Cross even initiated the process of growing barley in Alberta for malting purposes, which, up until then, had always been imported.
The brewery was a key employer for the area and one of the first in the province to provide pension plans and insurance to its employees, as well as Depression-era relief.
Despite surviving both World Wars, another Prohibition and the Great Depression, by 1961, the company faced insurmountable challenges and was sold to Canadian Breweries. For the next three and a half decades, the brewery continued to change hands until Molson Breweries (The Molson Coors Company) finally took over in 1989. Production of Calgary Beer ceased in 1994. But this wouldn't be the last of the iconic brew.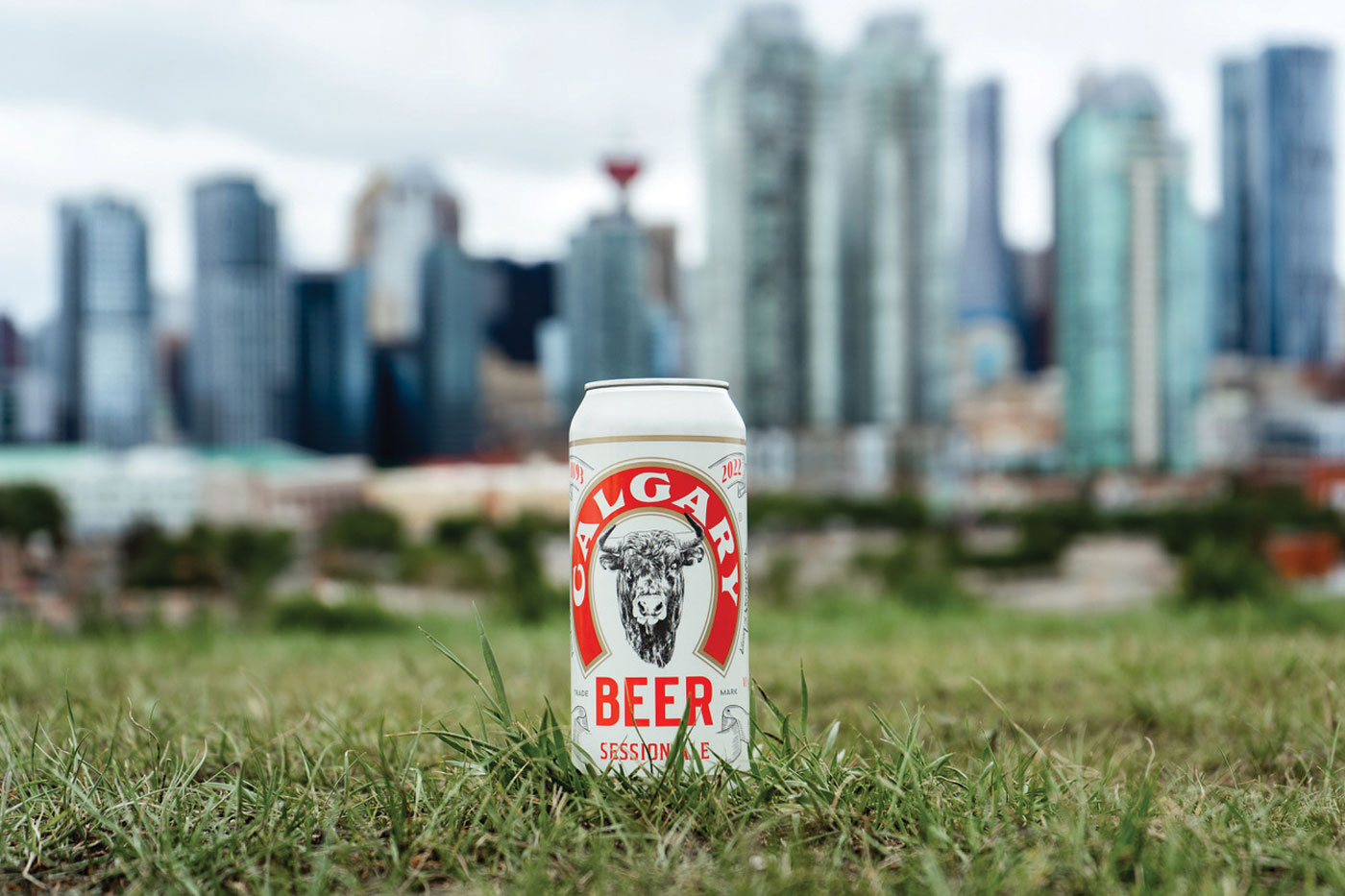 Village Brewery's updated session ale inspired by the original Calgary Export Lager. Photograph courtesy of Village Brewery.
In 2021, Village Brewery — one of Calgary's original craft breweries — collaborated with Molson Coors to revive Calgary Beer. The recipe for the new edition drew inspiration from the original. The resulting Calgary Craft Lager sold out in just eight weeks.
This year, in celebration of Village Brewery's 10th anniversary, Calgary Beer is being resurrected again, as what operations team member Mike Boucher calls "an easy-drinking session ale," made with Alberta-grown craft malt. The reimagined logo features a black Angus bull and horseshoe in a nod to the original.
"It's very important for us to add something to the history of Calgary Beer," says Village Brewery president Jeff Popiel. "And that's what craft beer is all about: Taking something old and enjoying it in a new way."