The origin story of the Great West Saddlery Co. is rooted, first and foremost, in the talent and ingenuity of Alberta makers, as well as in the balance of competition and cooperation.
At age 15, Elisha Frederick Hutchings began his career as apprentice to a harness maker. In 1879, he bought a partnership with a Winnipeg harness-making business founded by Robert Stalker. Under Elisha's clever business guidance, the company expanded and grew. Three years later, when Stalker passed away, Elisha bought the company and renamed it the E. F. Hutchings Saddlery Company.
Following in his older brother's footsteps, Robert John Hutchings apprenticed as a saddle and harness maker with Elisha's company. Despite becoming junior partner after his apprenticeship in 1887, Robert wasn't content to stay in Winnipeg. He believed his future awaited in the frontier town of Calgary.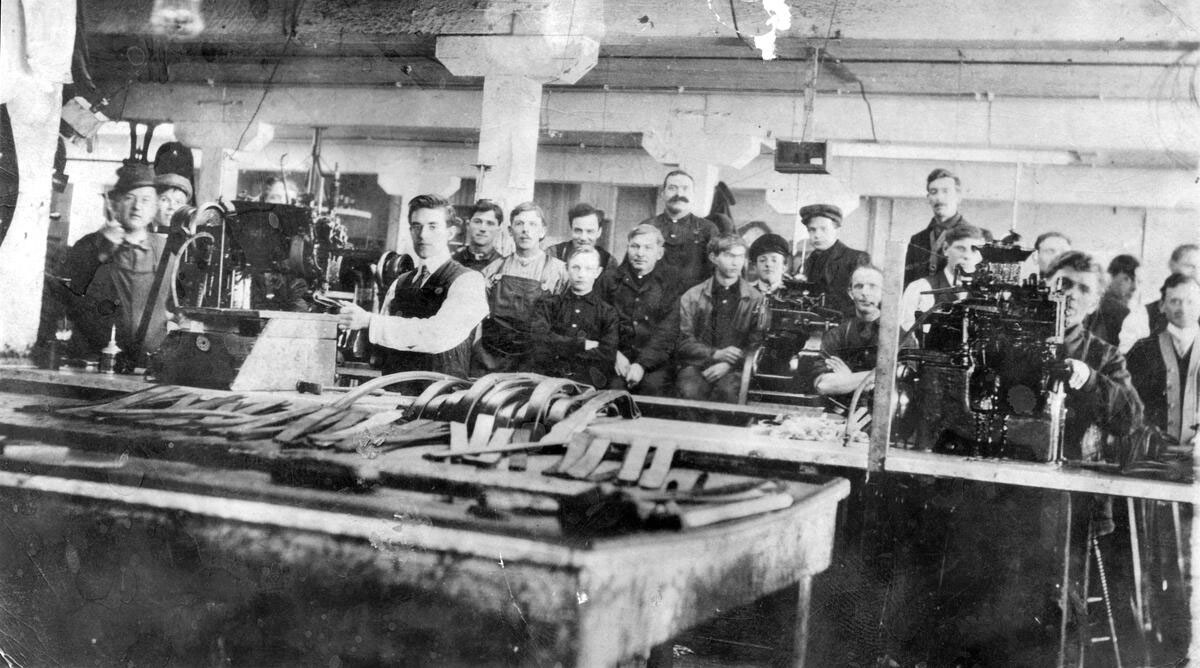 Great West Saddlery employees inside workshop, Calgary, Alberta. Photograph courtesy of Libraries and Cultural Resources Digital Collections, University of Calgary
In Calgary, Robert partnered with local harness maker William James Riley and established Hutchings and Riley on Stephen Avenue in the Lineham Block. As in many local businesses, the two owners worked alongside their employees crafting saddles and harnesses. The company won a gold medal at the 1893 World's Fair in Chicago (making them an early made-in-Alberta award winner).
By July 1899, to limit the growing competition between the Hutchings brothers' companies and a third company, Carson & Shore, the three harness and leather making businesses merged and officially formed the Great West Saddlery Company. Robert remained in Calgary as the vice-president of the branch there, built in 1904 and located at 220 9th Avenue, which later became the Alberta headquarters. Another branch was subsequently established in Edmonton. Although the brothers retired sometime in the 1920s, the company continued running until 1956. 
Over the years, Robert made a point to work closely with local makers, including skilled Indigenous leather workers, whose legacy of local craft has likewise continued to this day. Robert's daughter, Blanche Hutchings, was quoted by historian Henry Klassen saying that some of the best leather toolers belonged to the Indigenous community. Their skill played a key role in legacy of Great West. The company's craft continued through grandchildren and influenced other local talents. Many apprenticeships of the company went on to open businesses of their own and continue the local work of the Great West Saddlery.
From the settlement era of Alberta up to today, local businesses have maintained a long and proud legacy of quality manufacturing, ingenuity and supporting local. Whereas once it was a necessity, shopping local now has since become a point of community pride.