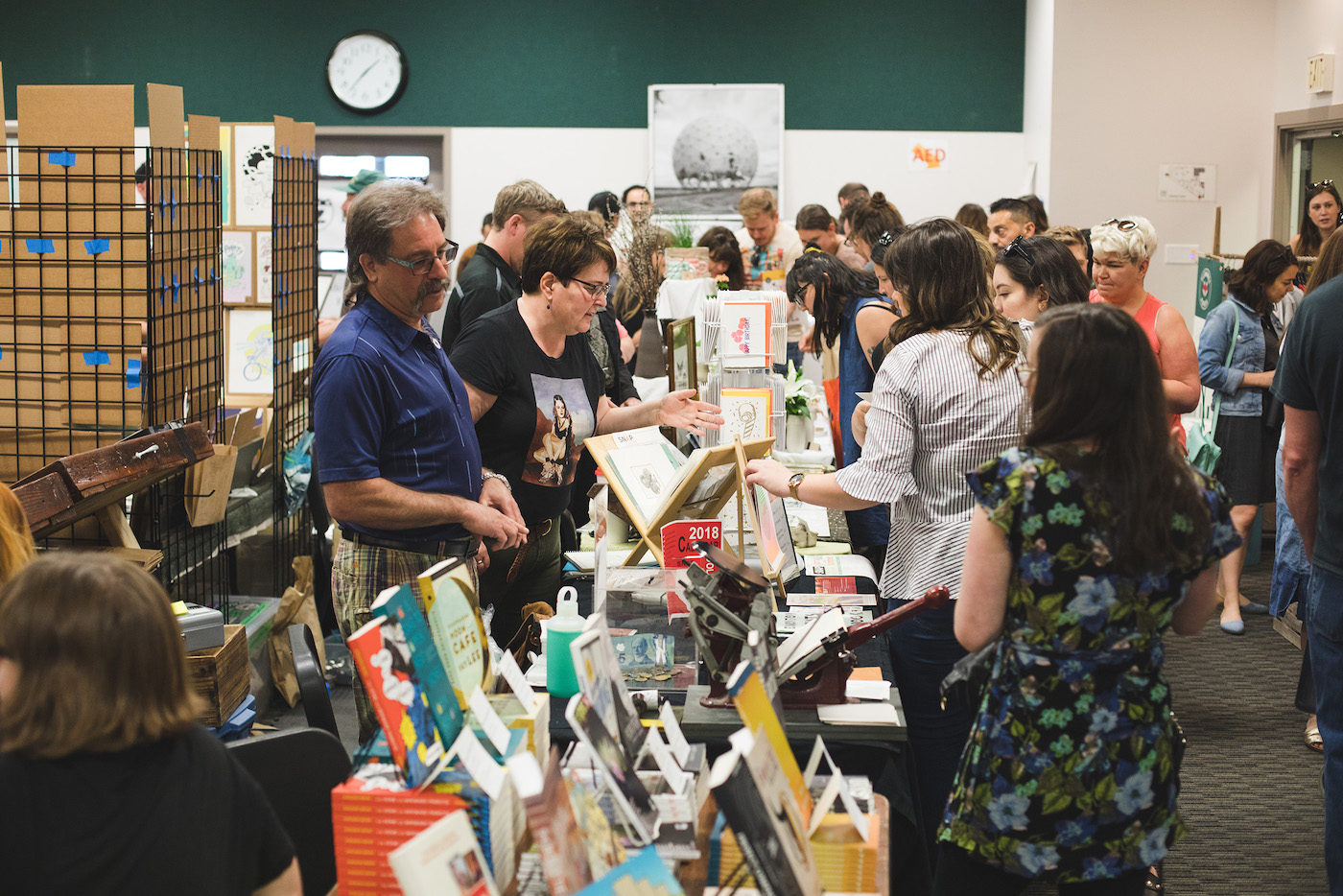 Photograph by Aspen Zettel.
Twice a year, artists and designers, most from Edmonton, some from Calgary, a few coming from as far as Skookumchuck, B.C., converge at the Old Strathcona Performing Arts Centre in Edmonton for the Royal Bison Art & Craft Fair.
Founded by illustrator Raymond Biesinger, the vendor-run fair showcases goods ranging from ceramics to leatherwork and jewellery. Today, the market is one of the most famous of its kind on the prairies, but it wasn't always destined for such heights. In fact, in 2009, after only operating for two years, the Royal Bison nearly came to an end.
Vikki Wiercinski was a vendor at the time, and she recalls the day Biesinger announced via email that he was moving to Montreal, and that the Royal Bison would cease when he left Edmonton. "A few of us immediately emailed Raymond back and were like, 'You can't do this, the Royal Bison means so much to everybody!'" Wiercinski says. "We refused to accept its death."
Those vendors, including Wiercinski, ended up inheriting the fair, which is now in its 15th year, albeit with a two-year pause of in-person events due to the pandemic. Wiercinski is one of six current or former Bison vendors that make up the current organizing team. "When we took over the fair, it wasn't what it is today," explains Wiercinski. "We were lucky if 500 people came through over a whole weekend … but it was perfect timing, in a sense."
The focus on art and design continues to be a foundation of Royal Bison. Food and beverage applicants are redirected to the adjacent Old Strathcona Farmers' Market as a better fit. "Edmonton has excellent art-and-design programs, but when students graduate, they realize there aren't a lot of jobs out there as creative as they want," Wiercinski says. "Creatives learn quickly that we have to make our own projects — that's extremely 'Edmonton' to me."
Wiercinski attributes the continued success of the market to a deliberate, measured approach to growth. "The fair has grown very slowly and organically," she says. "It still takes place in the same venue where it began, and that's intentional. We've kept it stable — it only happens twice a year — and that gives people enough time to come up with new ideas and create new work."
Being vendor-run also gives the Royal Bison an edge among other arts and crafts fairs. "The Royal Bison isn't run by business people," says Wiercinski. "I can't think of another craft fair in Western Canada of this size that is vendor-run."
The organizers' efforts are in pursuit of a simple goal: supporting local maker culture in Edmonton. "If you don't support it, it will fade away," says Wiercinski. "It's hard to be an independent maker. It takes a lot of hard work, but it also takes a lot of support from your community. You need an appreciative audience that says, 'This is made locally, and that's something we value.'"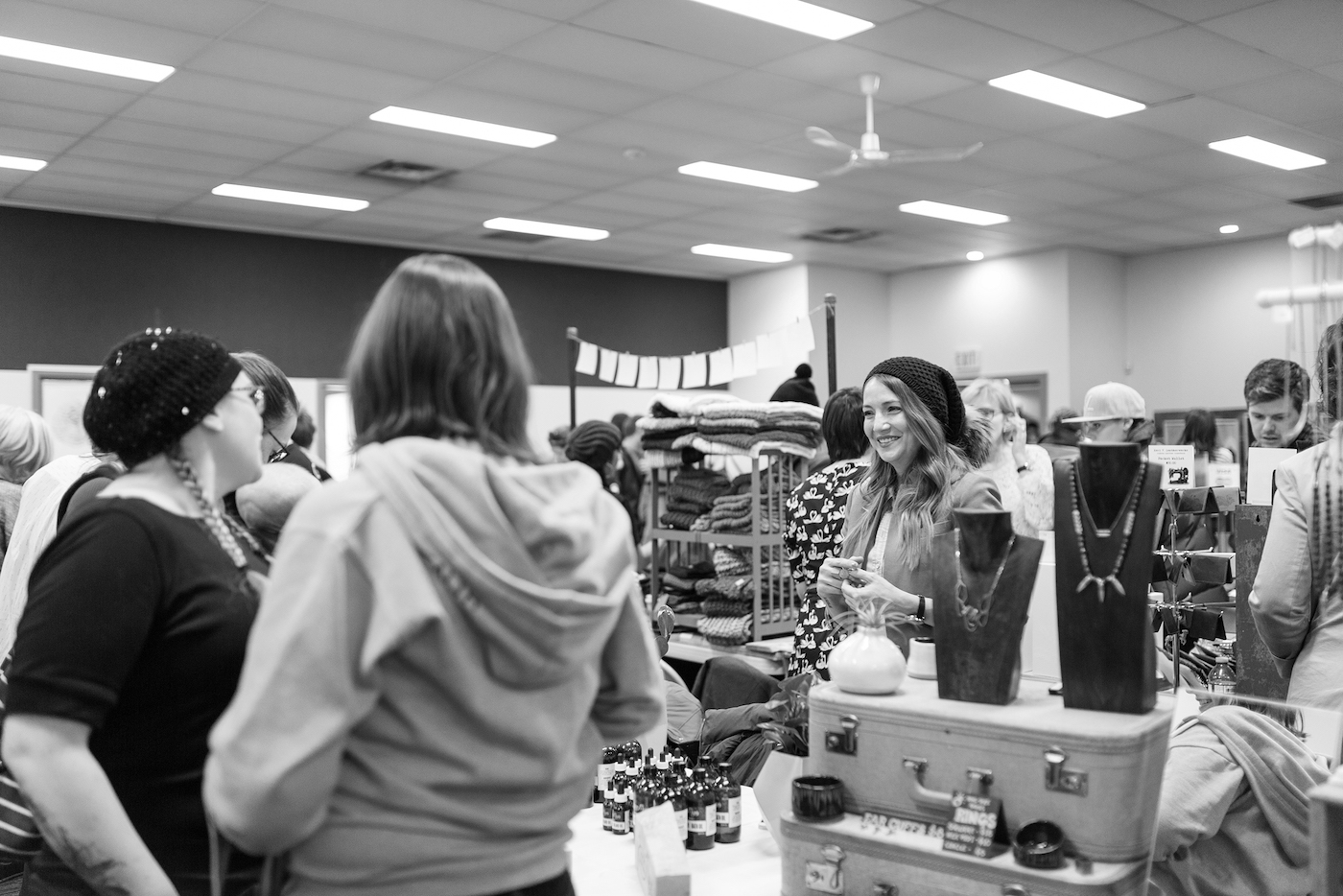 Photograph by Aspen Zettel.
Co-organizer Emily Chu, a commercial illustrator and maker of art products, echoes Wiercinski's sentiment. "I already feel like we have a strong art community, but it's a lot of work to sustain and grow that kind of culture," Chu says. "We want to make sure the community stays vibrant and supports artists so that they can achieve great things."
Chu began selling indie comic books at the Royal Bison in 2014. Her administrative role has focused on community outreach — connecting with vendors who would be a good fit with the Royal Bison ethos — along with other general tasks.
Chu also creates gift guides that highlight the vendors and their wares. "We put the focus on vendors," says Chu. "The Royal Bison is a platform for small businesses, and we do everything we can to support these small businesses, from keeping table fees as low as possible to making sure friends are able to set up next to each other."
Chu, who also serves on the Edmonton Arts Council Equity Committee, sees the Royal Bison as a locus of creativity. "Royal Bison [is] an opportunity for experimentation. People try new and unique things, usually in very small runs. Sometimes, you'll see something at the Royal Bison and there are only two or three of that thing in the whole world — and that's special."
At the end of the day, it's about building community. "The Royal Bison is really the story of the artists," says Chu. "We're just here to help artists build a connection with an audience. If we can help foster that relationship, we've succeeded."
The next Royal Bison market runs November 25 to 27 and December 2 to 4, 2022; royalbison.ca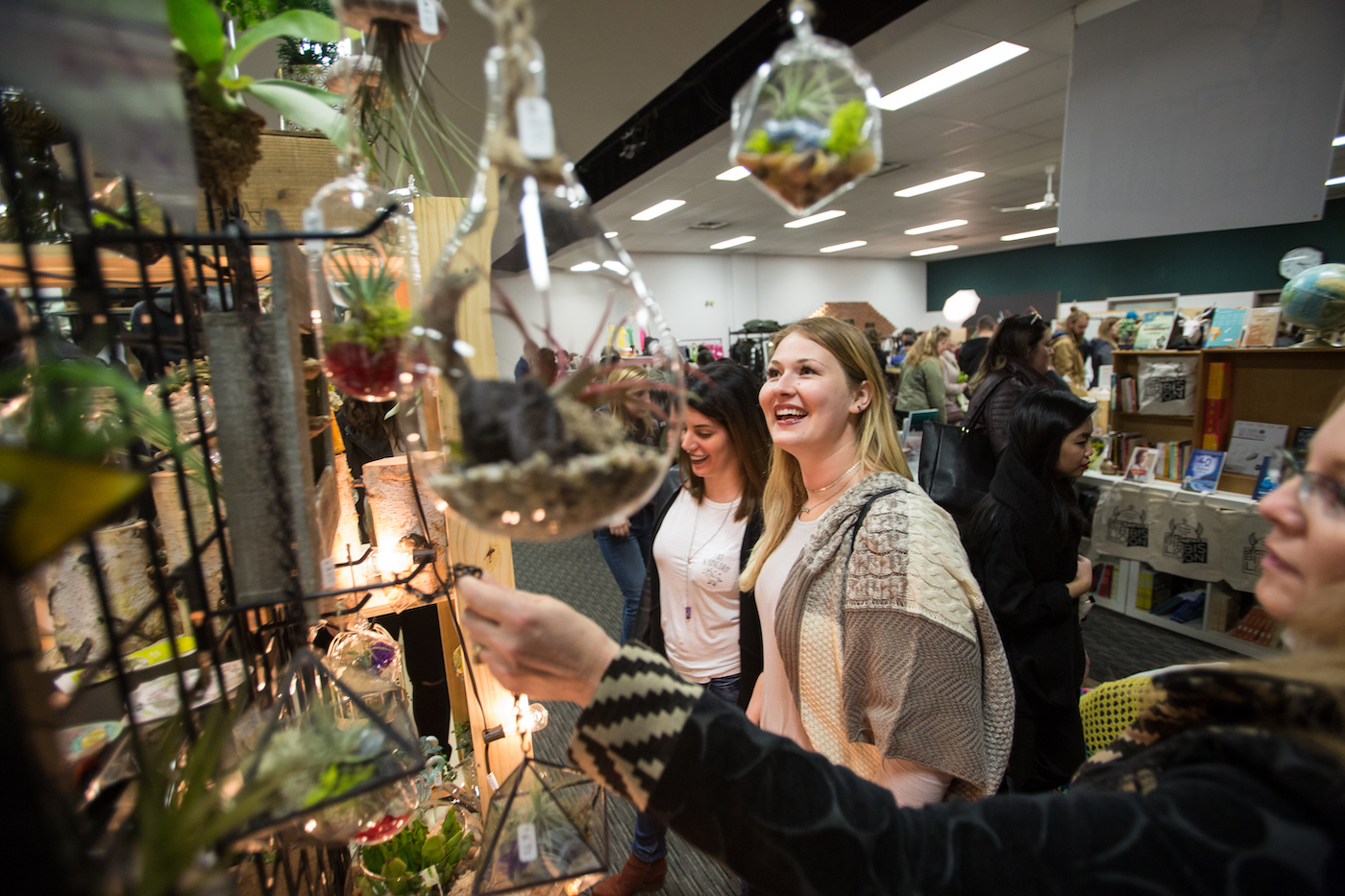 Photograph by Aspen Zettel.