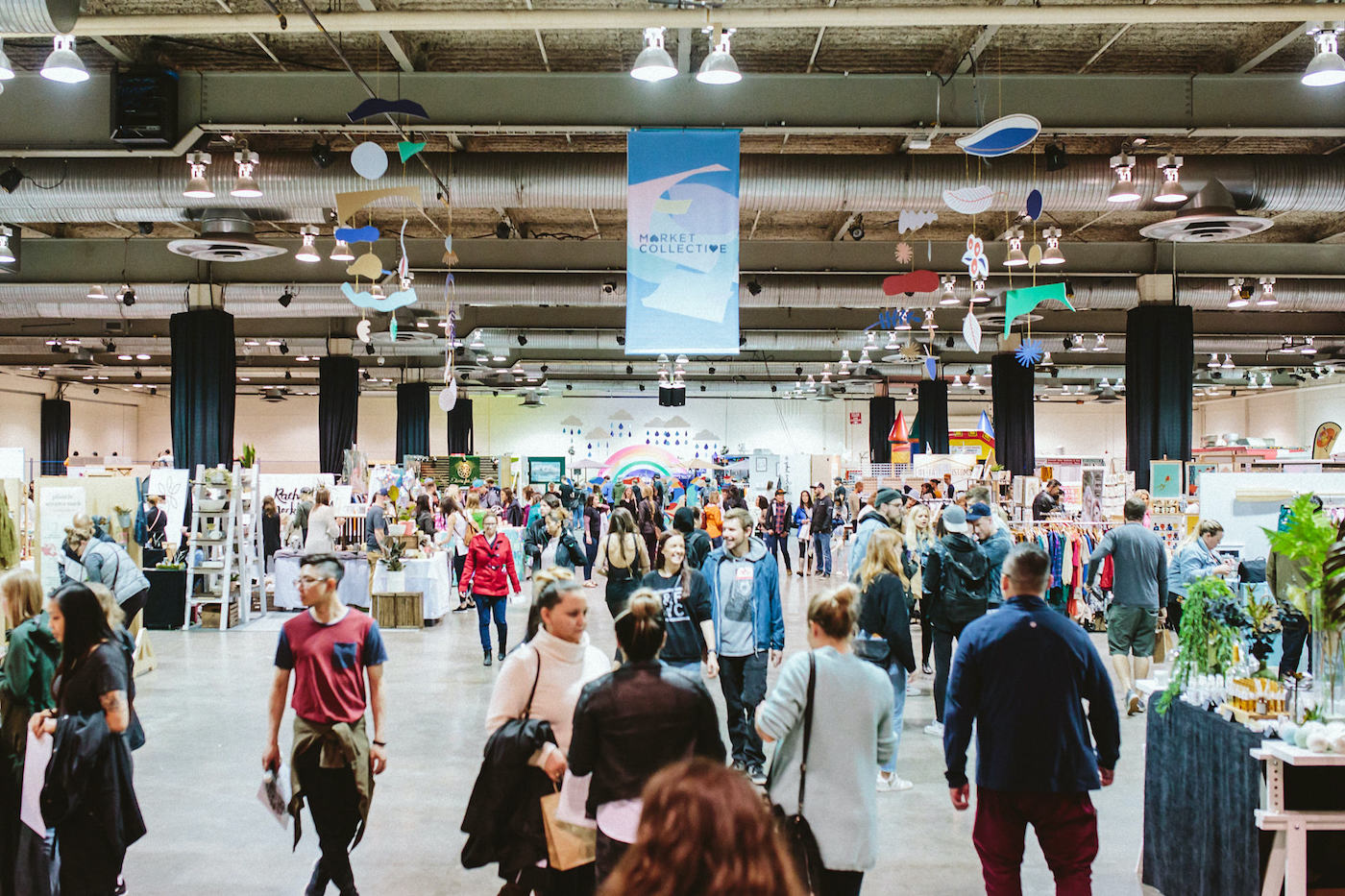 Photograph courtesy of Market Collective.
Spring has sprung, and with the season comes a new batch of markets to visit. Whether you're looking to find the perfect gift for Mother's Day or want to treat yourself to something special, there are markets and craft fairs popping up all over the province where you can shop and support local creators.
April 9, 2022
Small businesses, markers and artists from central Alberta showcase their skills at this market, which takes place three times a year in Olds. Leather work, pottery and furniture are just a few of the things you'll find at the market's spring edition, which is in partnership with the All Things Pretty Market.
Olds Regional Exhibition, Cow Palace, 5116 54 St., Olds, thepicketfencemarket.com
April 23, 2022; June 18, 2022
This community-directed marketplace celebrates the work of local artisans and vendors, with over 85 makers, food trucks, live art and music, door prizes and more.
Exhibition Park, 3401 Parkside Dr. S., Lethbridge, lethbridgehandmademarket.ca
April 23 and 24, 2022
If you haven't ventured out to Saskatoon Farm before, this market is the perfect opportunity to check it out. The spring market will feature 95 local bakers, growers and artisans.
20, 80181 338 Ave. E., Foothills, saskatoonfarm.com
April 29 to May 1, 2022
Browse the handiwork of over 180 artisans from coast to coast at this craft show, which has been an Edmonton staple for ringing in spring since 2006.
University of Alberta, Butterdome, 87 Avenue and 114 Street, Edmonton, signatures.ca
April 30 to May 1, 2022
Shoppers can browse this weekend market in Red Deer that showcases over 100 artisans and makers, and runs just in time to find a special something for Mother's Day.
Pidherney Centre, 4725 43 St., Red Deer, eventbrite.ca
May 6 and 7, 2022
Authentically Indigenous is a local, grassroots market that showcases Indigenous makers and artists who create handmade goods, food, art, jewellery, beadwork and more. There will also be a free surprise for moms in attendance.
Kerby Centre Gym, 1133 7 Ave. S.W., Calgary, authenticallyindig.com
May 6 to 8, 2022
After hosting seven online pop-up fairs during COVID-19, the Royal Bison is back in-person and better than ever. Top-notch creators have been coming together to sell and showcase their work at this market since 2007.
Old Strathcona Performing Arts Centre, 8426 Gateway Blvd., Edmonton, royalbison.ca
May 7, 2022
Etsy Calgary has partnered with Contemporary Calgary for a spring market over Mother's Day weekend. Shop from a selection of local vendors and vintage sellers and take a stroll through the current Contemporary Calgary exhibits before you leave. Food trucks and workshops will also be available.
The Grotto at Contemporary Calgary, 701 11 St. S.W., Calgary, etsycalgary.com
May 7 and 8, 2022
All Things Pretty is bringing its retail experience to Red Deer for two days only. The first night features a ticket-only soiree shopping event where guests can sip cocktails, browse local vendors and enjoy live music. The public market, which is pay at the door, will be open on the second day.
Westerner Park, Red Deer, allthingsprettymarket.com
May 13 to 15, 2022
One of Calgary's largest markets returns with more than 160 vendors this month. Along with workshops and live music, guests can shop for food products, ceramics, home decor and more.
BMO Centre (Hall B and C), 20 Roundup Way S.E., Calgary, marketcollective.ca
May 18 to 19, 2022
The Made in Alberta Market features past winners and runners-up of the Made in Alberta Awards. There will be vendors selling drinks, beauty products, food items and more. Celebrate these award-winning artisans and treat yourself in the process.
Bow Valley Square, 205 5 Ave. S.W., Calgary, madeinalbertaawards.ca
May 27 and 28, 2022
Whether you're shopping for a friend, a family member or yourself, you're sure to find a treat from one of the talented regional artists setting up shop at this two-day event.
601 3 Ave South, Lethbridge, saag.ca
June 4, 2022
Don't let the name fool you — with over 80 vendors, this Calgary market is anything but "little." Plus, shoppers can get extra perks such as buy-one-get-one passes to Telus Spark, so don't miss out.
Atco Park, 5302 Forand St. S.W., Calgary, littlemodernmarket.com